Accessibility and Universal Design
Certain accessibility requirements must be addressed when developing learning materials for electronic dissemination to students. Distance education courses, resources and materials must be designed and delivered in such a way that the level of communication and course-taking experience is the same for students with or without disabilities.
The 2011 Distance Education Accessibility Resolution by Foothill College Faculty Academic Senate strongly encourages faculty to familiarize themselves with the requirements specified in the Distance Education Accessibility Guidelines for Students with Disabilities and to take immediate steps to ensure that their online courses and materials are in compliance with these guidelines.
See Distance Education: Accessibility Guidelines for Students with Disabilities from the Chancellor's Office California Community Colleges.
Still not convinced of the need to address accessibility? Watch this 11 minute video - To Care and Comply: Disability Access produced by Portland Community College.
---
Solution:
The most common accessibility compliance issues can be avoided by only using webpages for instruction that -
Provide text-equivalents for non-text content (including pictures and audio)
Use foreground and background colors that contrast sufficiently
Provide captioning for videos
Structure large blocks of information into more manageable groups
Clearly identify the target of each link (do NOT use "click here")
Avoid animation
Learn how to make your online course and learning materials available to ALL students regardless of learning style or disability and then get assistance from staff.
How to make your online course site and webpages accessible
How-To Guide for Creating Accessible Online Learning Content
Etudes
Webpages
Find out what to ask publishers BEFORE you adopt their textbooks or require your students to use their websites.
Videos and Audio Recordings
All required instructional video for online and hybrid courses MUST be captioned and audio must be transcribed.
Images
All images and photos must have alternate text and/or long description

Appropriate Use of Alt Text

Use empty Alt-tags - (example: " ") for all decorative and non-essential images
Alt-Tags - for all non-decorative images with alt-tags that describe the information you want the student to understand from the displayed image.

Example: Use "Joy of connecting with family while watching a movie" instead of more literal "Family sitting on couch watching movie"
Math
Downloadable Documents
Make all downloadable documents accessible
Information Hierarchy
Use Headers, shorter 3-5 sentence paragraphs, simple and communicative visuals
Use "bold" and "italics" sparingly
Color and Contrast
Only use color to convey meaning if you provide a written explanation
Use high contrast for text against the background
Universal Design for Learning
Accessibility Compliance Verification: Review your webpages for accessibility

Evaluating Website Accessibility
Evaluating Document Accessibility
Get Assistance from Staff

Nas Ouliaei, Tech Training Specialist
Akosua Grant, Accommodations Coordinator, Disability Resource Center
Judy Baker, Dean of Foothill Global Access
Tutorials and Training
Accessible Web Design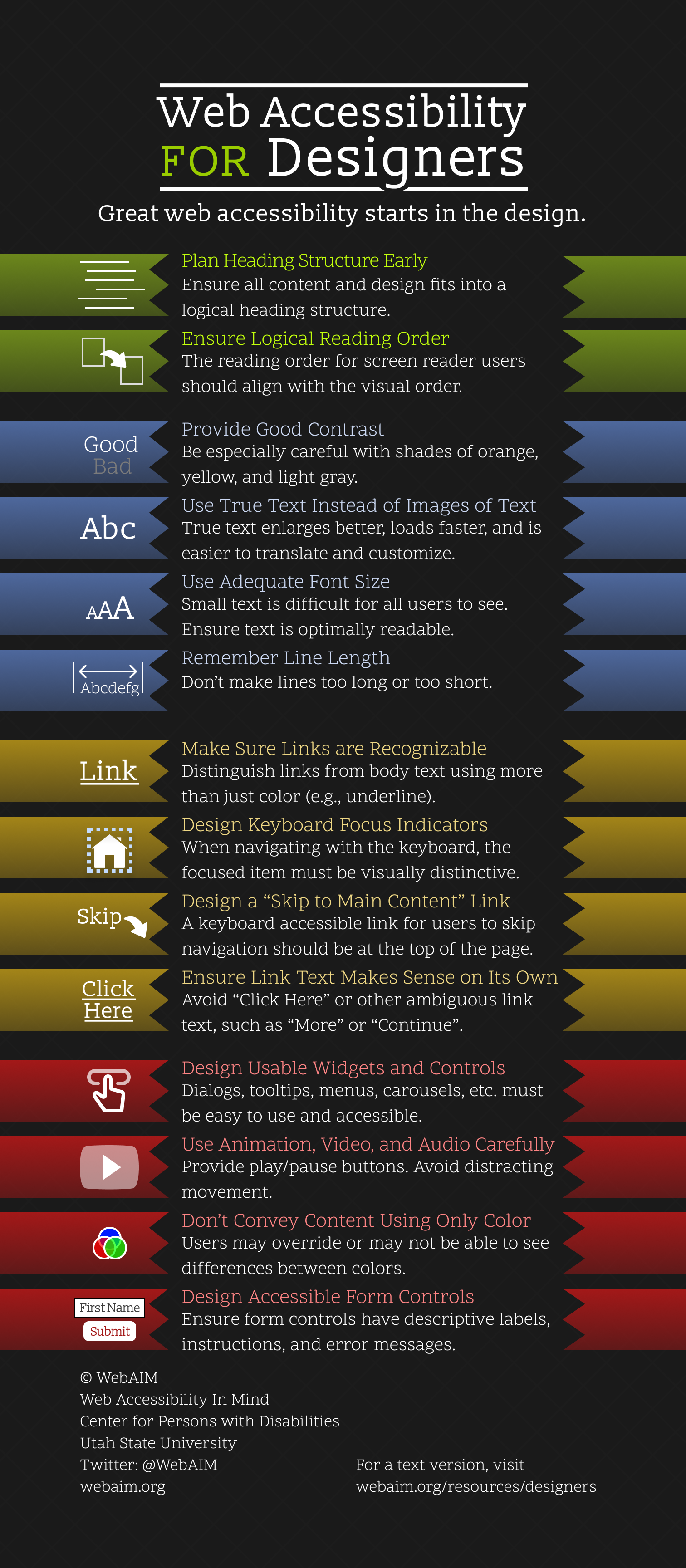 Tool

My Web My Way - Tips for students about how to make the web easier to use

Guidelines